Bleed is a term used in the print industry to define a document which has color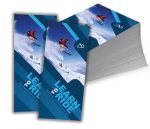 and/or graphics that extend off the edge of the page. The excess color will be trimmed off so that there is no white margin around the document edges. When a product has bleed, it must be printed on a larger sheet than the finished trimmed size.
We use the industry standard of 1/8″ (.125″) on all four sides.
If you have any further questions, please don't hesitate to contact one of our helpful media consultants today – 810.750.8291