Publication Printing
You have come to the right place for personal attention and in-house magazine layout design has great prices. Your Publication will be Affordable, Professional and will Look Great.
Direct Marketing, Magazine Layout Design Experts
At AlliedMedia, we know how valuable to your company a great publication can be – whether it's a monthly newsletter, annual report, catalog or a direct marketing magazine. If you want to save even more, or have a smaller publication, try our free flyer design or brochure design templates – and customize online! Same presses, same attention to detail you expect from AlliedMedia.

Save money when you customize our free flyer design templates!
At AlliedMedia, the state of the art presses in our massive 30,000 square foot facility are always humming with full color publications for some of the biggest industries and companies. We have produced literally tens of thousands of direct marketing magazine publications for hundreds of organizations – including DaimlerChrysler, GM, Ford, Delphi and Visteon. We also regularly design and print trade magazines and newsletters. Every publication receives our special attention to detail from start to finish.
Are you a Michigan-based company, or do you have a field office located in the state of Michigan? Mention this to our sales team to receive a Michigan Marketing Discount.
Branding, Corporate Identity In Every Publication
Over three generations of printing expertise goes into every magazine layout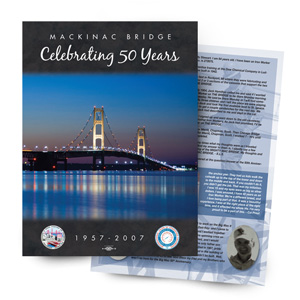 design, multi-page advertising flyer design efforts, and into our expert branding. Corporate identity goes well beyond a logo development – branding/corporate identity arrives at a customer's doorstep in a professionally printed direct marketing magazine or publication, where a great deal of attention was paid to magazine layout design.
Advances in printing technology and software now allow virtually any business to publish a slick, professionally designed direct marketing magazine. Any sized company can seriously boost their branding/corporate identity with a full color publication at a fraction of the cost of just a few short years ago.
Our professional staff will expertly guide you through each step of the process necessary to produce customized, highly effective advertising flyers, or a targeted direct marketing magazine. Our magazine layout design experts will make your product appeal to your audience, and our branding/corporate identity marketing experts will focus on your message.
Your publication will be an affordable, targeted powerhouse when you call AlliedMedia.
Newspapers
Periodicals
Advertising Flyers
Postcards
Union Publications
Trade Magazines
Newsletters
Custom Calendars
Brochures
Booklets
With our online store, you can browse our free flyer design selection any time of the day or night – and then order your flyers, brochures or smaller publications. Design at your convenience using our templates for free. Flyer design online is easy at AlliedMediaStore.com and so is brochure design. For smaller publications, we can help you in house, or you can design for Free! Flyer design and brochure design online, 24/7, at AlliedMediaStore.com.
Identity branding? Corporate identity? Create your own corporate identity & branding with our fast and easy online design tools. Click Here to browse our template library