Election Printing & Services

AlliedMedia is your entire campaign printing resource!
Union Production
AlliedMedia is your union printer for all of your election services and campaign printing needs. We have 30 years of experience with union election printing. From sales to design, printing and mailing – our union staff will produce quality pieces to reinforce your campaign.
One building for better control and faster fulfillment
What makes AlliedMedia better than other printers when it comes to your campaign printing? Every aspect of your election printing is handled in-house at AlliedMedia. From design to mailing and fulfillment, we do it all right here, under one roof. We control the security of your election-printing job and we control the time frames better than printers that outsource.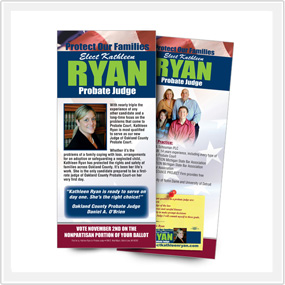 Union Elections Mailing
During busy election seasons, AlliedMedia effectively handles over a million pieces of mail per week! Our mailing staff is the best in the industry, and we are proud of our safeguards and standards for mailing. We have great quality control because we handle every aspect of printing and mailing under our one roof. Your job will always be mailed on time, for the best postal rate available.
How's your mailing list? We can integrate your mailing list, plus purchase mailing lists on your behalf.
Marketing & Design for Union Elections and Campaign Printing
The experienced team at AlliedMedia will act as your professional marketing team for all election services needed. Our talented graphic designers will assist you with your election services' look and feel, and we will produce eye-catching designs for all campaign printing.
Election Services Include
Rack Cards
Political Mailers
Brochures
Postcards
Flyers
Door Hangers
Posters
Stickers & Bumper Stickers
Poll Cards
Car Magnets
Yard Signs
Campaign Printing: We'll Mail Anywhere in the U.S.
For union elections and non-union elections, we can handle all your election printing needs at AlliedMedia. We have been providing a full menu of election services and campaign printing for decades.