We recently created a super functional yet creative way to leave our business cards with our customers and prospects. Introducing our To Do List Contact Pad! It's a To Do List note pad with a cover that features our business card, perforated at the bottom so it can be torn off for reference. The cover also displays our list of capabilities in a fun, colorful fashion. It's the ultimate take away! How often do you find yourself scrambling to jot down a note while it's fresh in your mind or while you're having a discussion on the phone? This convenient pad is just the right size to house anyone's notes while keeping our company name and contact information prominently in their sightline.
Contact us today to get your custom To Do List Contact Pads started!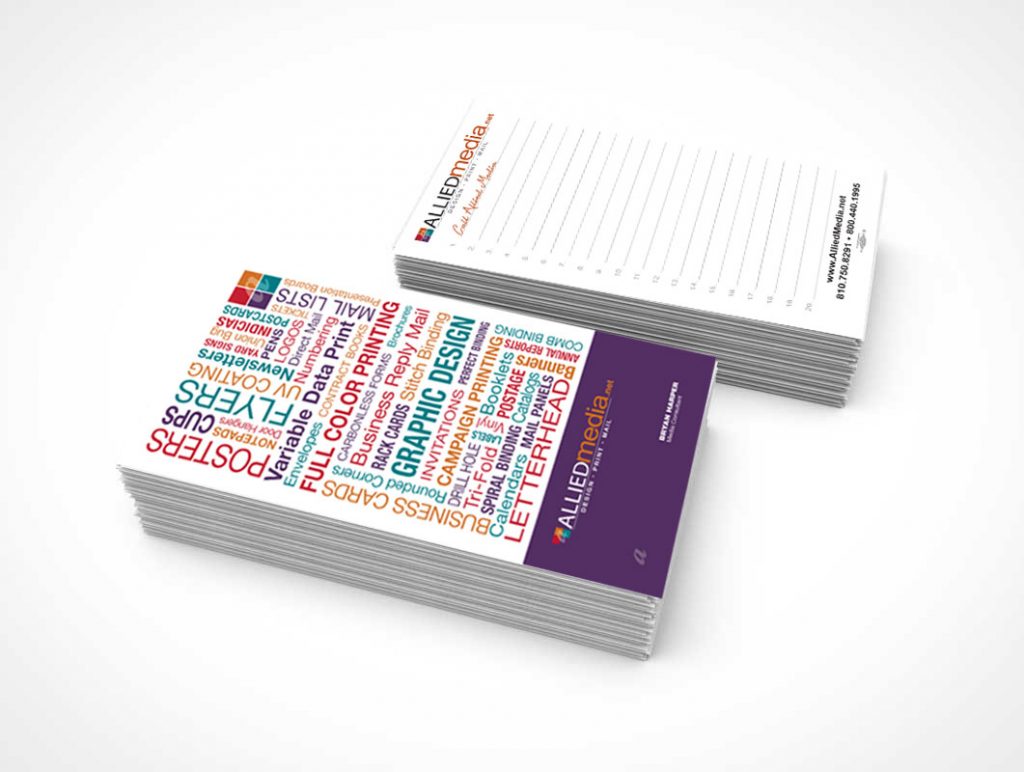 Did you know we also print business card magnets? Magnets are another useful tool to keep your contact information handy! Make any casual piece instantly more compelling by glue-dotting a business card magnet to it; such as hand out cards, postcards or brochures. Let us help you create your next engaging print product!
---

Your Complete Business Solution
We can Design, Print and Mail
As a multiple-generation, family owned and operated business, our reputation is on the line with every job we print and fulfill. We take your printing seriously. We will make sure that you're completely satisfied, and that your printing will be complete on the day we say it will be.
For our valued customers, 'everything print' means we can be counted on for every day business cards, as well as for car magnets, election signs, complex annual reports and even newspapers. We can even fulfill your customized promotional products.
One Building: Faster and Better
What makes AlliedMedia better than other printers when it comes to your printing? We fulfill every aspect of your project In-House at AlliedMedia. From layout and design, to printing and mailing, we do it all under one roof for better control, and faster fulfillment. We control the security of your printing, and we control the time frames better than other printers who outsource their printing.